Search Digital Library
Search our database using gene symbol, image ID, keywords, or ontology.
Genomewide Expression Maps (GEMs)
GEMs are summaries of spatial patterns of all genes expressed. Activate any GEM by clicking on it.
% of Genes
---
myFX
Download our FREE myFX software for Windows and Mac OS to process and analyze images depicting embryonic gene expression in the Drosophila fruitfly. It also utilizes FlyExpress resources, right from your Desktop.
iPhone App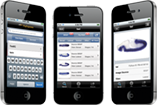 Download our FREE iFX mobile app from the iTunes App Store and search our image database on the go!
About FlyExpress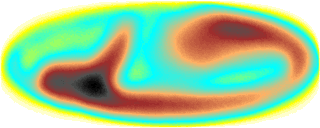 FlyExpress is a platform to explore expression patterns of developmentally relevant genes in Drosophila embryogenesis. It contains a unique digital library of standardized images capturing the expression of thousands of genes at different developmental stages. Use our image-matching search engine and genome-scale summaries of spatiotemporal expression patterns (GEMs) to find genes with similar and overlapping patterns of expression in the developing embryo.
Citing this Resource
Kumar S, Boccia K, McCutchan M, Ye J (2012) Exploring spatial patterns of gene expression from Fruit Fly embryogenesis on the iPhone. Bioinformatics 28:2847-2848. [Download PDF]
Konikoff C, Karr TL, McCutchan M, Newfeld SJ & Kumar S (2012) Comparison of embryonic expression within multigene families employing the FlyExpress discovery platform reveals significantly more spatial than temporal divergence. Developmental Dynamics 241:150-160. [Download PDF]
Kumar S, Konikoff C, Van Emden B, Busick C, Davis KT, Ji S, Wu L-W, Ramos H, Brody T, Panchanathan S, Ye J, Karr TL, Gerold K, McCutchan M & Newfeld SJ (2011) FlyExpress: Visual mining of spatiotemporal patterns for genes and publications in Drosophila embryogenesis. Bioinformatics 27:3319-3320. [Download PDF]
Copyright Notice: The images containing expression patterns in FlyExpress are protected by copyright. It is our belief that the "not-for-profit" effort to build and display this library of images is covered under the " fair-use doctrine." Therefore, although you can locate and access these images through our resource, we cannot grant you rights to reproduce them for any purpose. If you wish to reproduce them, we advise you to contact the authors of the original research publications and electronic resources to obtain the requisite permissions.